Looks around…
OK, good. I haven't been sued for copyright infringement yet. On to the midfield! This is probably the most important group in terms of executing Brendan Rodgers' new style of play properly. Passing is the key and there are plenty of pass-masters on this team, especially with the addition of Joe Allen. And speaking of the newbie…
Joe Allen = Will Arnett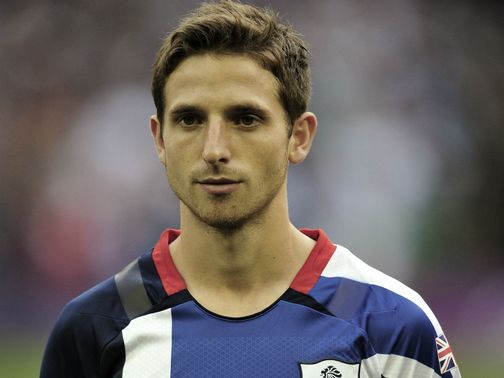 They're both at different stages in their careers, but they're both quite consistent. The big stat right now is Allen's roughly 90% pass completion percentage from last season. Doesn't get much more consistent than that. And I've yet to watch Will Arnett on screen in any role and not wind up on the floor laughing. Allen will be called upon to play a leading role for a long time. Let's hope he stays as consistent as his passing last season.
Lucas = Dirk Nowitzki
They've both got the long, blonde locks and they're both very unconventional. Dirk is 7 feet tall and takes lots of long jump shots while Lucas might be the least creative Brazilian ever. And it's their unique styles that make them both gamechangers. Before missing 2011-12 due to a torn ACL, Lucas was voted Player of the Year by Liverpool fans. Whenever he goes out on the pitch it is his job to retrieve the ball and re-start possession; a job that will be key with Rodgers' new pass-obsessed system.
Jordan Henderson = Legolas (as played by Orlando Bloom)
A pair of blonde pretty boys if ever there was one, they're both quite young (Legolas is considered "young" compared to your average elf) and they both have a tendency to shoot from distance quite a bit. But while the archer from the Woodland Realm knows his role, we still have yet to figure one out for Jordan Henderson. I'm really hoping Brendan Rodgers can help the youngster fit in before the weight of his price tag from last summer starts to effect his play/development.
Stewart Downing = A young Eric Idle
Idle was part of the comedic genius that was Monty Python and everyone loves to crack jokes at the expense of Stewart Downing. People celebrated his goal in the first leg of Liverpool's Europa League playoff with FC Gomel like it was a national holiday or something. But for all the flack he takes, Downing will probably have a fairly significant role in Rodgers' new 4-3-3 system. I imagine he'll be on the wing rather than in the midfield and he'll be expected to provide quality service to whomever Rodgers decides to place at the point of the attack. Like Henderson, Downing does need to step his game up or risk crumbling under the weight of expectations (and his 2011 price tag as well).
Joe Cole = Chris Pine
The American actor tends to play cocky characters who have a tendency to boast and show off. Joe Cole certainly isn't shy about trying to take defenders on 1-on-1. His game has always been about flash, although he's failed to impress (or play) much since he arrived at Anfield from Chelsea. I imagine he'll be a winger in the 4-3-3 formation opposite Downing, but there's also the possibility of Rodgers using him in the midfield as well this season.
Jay Spearing = Moby
Gollum would've been a good choice here or even Simon Pegg, but we already have a Lord of the Rings reference and I actually like Simon Pegg. Much like Moby, Jay Spearing is capable of the occasional brilliant moment, but for the most part he's just average and tends to get in the way. With a shortened midfield in the new the 4-3-3 and the return of Lucas, we may not see as much of Spearing this year as we did last year. It's great to see a youngster get his chance, but Spearing  just doesn't appear to have what it takes to play with the best right now.
Jonjo Shelvey = Lord Voldemort!!!
Because they're both so evil! Actually this one is purely physical. I don't see Jonjo Shelvey plotting to take over the world. In fact, he'll have a tough time simply taking a spot on the bench every week. Again, the new 4-3-3 leaves little room for central midfielders and Shelvey will have to battle with the likes of Steven Gerrard, Lucas, Charlie Adam, and Joe Allen for minutes. I do think he has a brighter future with this squad (as currently constructed) than Jay Spearing though.
Charlie Adam = a rat
He just does. And he ruins everything. And nobody seems to like him.
Steven Gerrard = Tim Tebow
My girlfriend asked me to do this one and while I love her and value her opinion, I don't see the physical resemblance. There is, however, a  competitive comparison to be made. Both work their tails off and keep their mouths shut (usually) and want nothing more than to win every single time they take the field. That attitude tends to rub off on their teammates and make them better as well. Gerrard and Tebow are pretty much consummate leaders.
Friday we'll wrap up with the forwards and my outlook on the entire season!
"Walk on with hope in your heart and you'll never walk alone!"