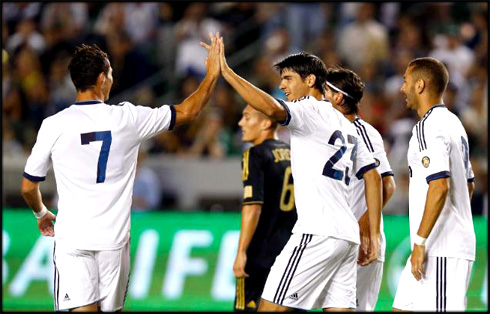 Cristiano Ronaldo (#7) and teammates celebrate yet another Real Madrid goal
If you had told someone before the season started David Junior Lopes would score goals against Tottenham Hotspur and Real Madrid this year, they'd have likely had you committed. Then again, if you had said the LA Galaxy would start two Chivas USA rejects at centerback 17 times this season and counting, I'd have laughed in your face.
But in front of a record crowd of 30,317 at the Home Depot Center on Thursday night, Lopes netted the Galaxy's only goal in a 5 – 1 loss to the reigning Spanish champions, Real Madrid.
Having his full compliment of stars last night, Galaxy Head Coach Bruce Arena fielded likely his strongest line-up with both David Beckham and Landon Donovan starting along with Omar Gonzalez, Robbie Keane, Juninho and Marcelo Sarvas to round out a side that would have been considered star-studded in any city around MLS. Unfortunately for LA, Madrid's Jose Mourinho had the luxury of fielding Kaka, Gonzalo Higuaín, Ángel Di María and José María Callejón, leaving the likes of Cristiano Ronaldo, Sergio Ramos and Karim Benzema on the bench to start.


It would be Higuaín opening the scoring in just the second minute of the contest, as he ghosted in behind Lopes before finishing an excellent Di María through ball beating goalkeeper Josh Saunders. Di María would continue to wreak havoc, scoring in the match's 11th minute after twisting and turning leftback Bryan Gaul in the Galaxy penalty area before finishing at Saunders' near post. 


But after Madrid went up 2 – 0 in quick succession, the Galaxy did find their feet and managed some nice combination play that showed they at least belonged on the field against they European counterparts.


Gonzalez latched on to a Beckham free kick near the Madrid far post and nodded into the path of Lopes in the 23rd minute of the match. The Galaxy centerback bungled the ball into the gaping net for his second goal in Galaxy colors, both coming in midseason friendlies with European competition.


After halving the lead, the Galaxy would get no closer though. Ronaldo was brought on to huge applause at the half, and although the superstar did not find the net for Los Blancos, Madrid would finish the match with three more goals, with the match ending 5 – 1 in favor of Madrid.
The Galaxy now return to MLS play with a critical match-up Sunday at the Seattle Sounders. The Sounders are just one point clear of  LA and with two games in hand, and the result of this match could have playoff implications for both teams.